Welcome to CRN AUCTIONS, INC.
Established in 1976
Auctioneers of Fine Antiques, Works of Art and Accessories
57 Bay State Road, Cambridge, MA 02138
phone: (617) 661-9582 email: info@crnauctions.com fax: (617) 661-1434
We are now accepting consignments of quality for our future auction.
Email photos to info@crnauctions.com; or call (617) 661-9582

HOURS: Monday - Thursday, 10 a.m. to 5 :30 p.m.
WE ARE CLOSED ON FRIDAY

PLEASE CALL AHEAD TO ARRANGE PICK-UP OF PURCHASED ITEMS,
OR IF SPECIAL ARRANGEMENTS MUST BE MADE .
CLICK HERE FOR SEPTEMBER 20th, 2020 AUCTION PRICE RESULTS
Below are items in our September 20 Auction:
Chinese hardwood cabinet; Herter Bros. cabinet, George Hallowell watercolor, Grueby vase; Carlo Bugatti furniture, Arthur Davies oil; Portsmouth Federal tiger maple secretary/desk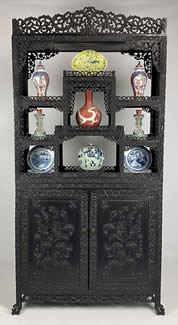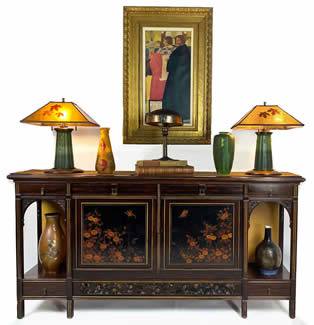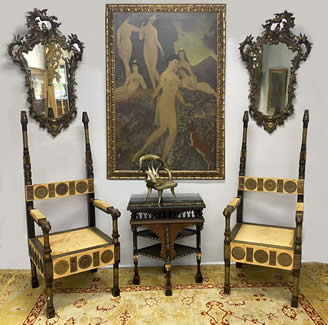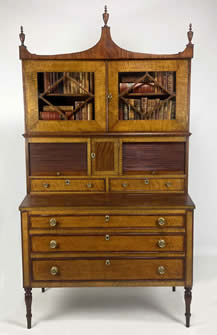 Buyer's Premium for telephone, written and in-house bidding: 22%; on-line bidding: 27%
Mass. Sales Tax: 6.25%
We are now on Instagram. Follow us at: crnauctions
____________________________________

FOR THE PRICE RESULTS AND ONLINE CATALOGUES OF OUR PAST AUCTIONS:
Click on PAST AUCTIONS PRICES on the menu at left.
WE ACCEPT ITEMS OF QUALITY FOR AUCTION, EITHER ON CONSIGNMENT OR OUTRIGHT PURCHASE
CONTACT US FOR INFORMATION
Email photos to: info@crnauctions.com Hard-copy photos may be sent via snail mail, or
Telephone us for an on-site visit and additional information: (617) 661-9582
We also purchase items outright.
We pay our consignors 21 business days after the auction.
Massachusetts State Auctioneer's License #425