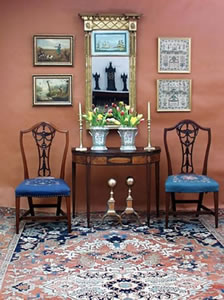 Past highlights at CRN AUCTIONS, Inc.
(Prices do not include the buyer's premium)
---
Sold in January, 2011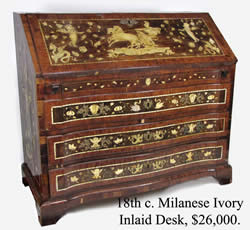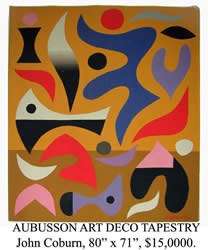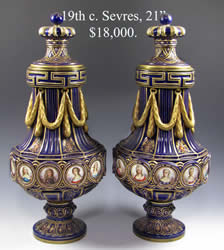 ___________________________________________________________________________________________________________________________________
Sold in November 2006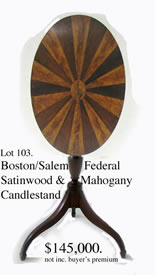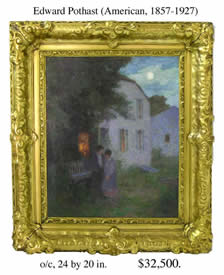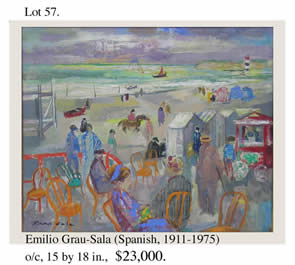 ---
Sold in May 2005
Lot 86. Rare Chumash Native American coiled basket Lot 222. Carved and painted eagle
Southern California, 19th cen., 9.5"h; 12"w attrib. John Bellamy, Kittery, Maine, 8"h; 25.5" long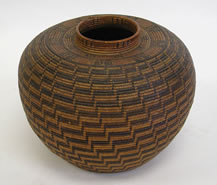 $115,000.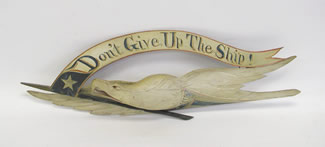 $30,000.
---
Sold in November 2005
Massachusetts Federal Mahogany Tall Clock Philadelphia Classical Brass Inlaid Mahogany
case attrib. to John and Thomas Seymour, Boston and Flame Mahogany Breakfast Table
dial signed James Doull, Charlestown attrib. Anthony Quervelle (1789-1820)
c. 1810, 89"h; 18"w, $80,000. 53 in. diameter, $45,000.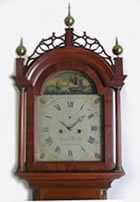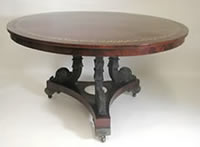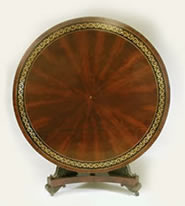 ---

Sold in May 2004

ALEXANDER POPE (American, 1849-1924) ROBERT SPEAR DUNNING (American, 1829-1905)
English Setter waiting for a walk, o/c, 36 by 30 in. $35,000. still-life with fruit, o/c, 8.5 by 12.5in., $34,000.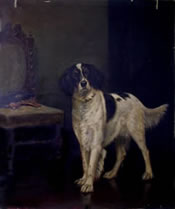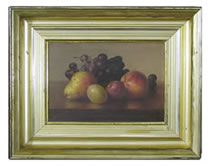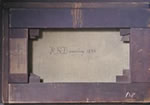 China Trade, c. 1826-1832 Diminutive Newport mahogany drop-leaf table
View of the Hongs (painted before the Hong fire) with stop-fluted legs, in old finish
o/c, 18 by 23.5 in., original frame
26.5"h; 36"w; 12"d with leaves down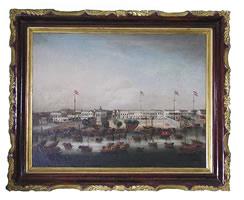 $27,000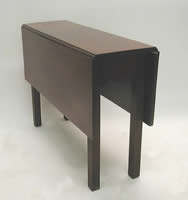 $32,000.
---
Sold November 2003
Rhode Island Chippendale bold tiger maple tall chest New England Chippendale birch ox-bow chest
Descended through the family of Julia Ann Hawes, d. 1851 ball and claw feet in old red color, original brass
59.5"h; 36"w; 18"d 32.5"h; case 35.5"w; 19"d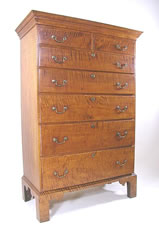 $39,000.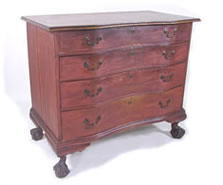 $36,000.
---
Sold May 2002
Lot 10. view this lot Montague Dawson (British 1895-1973) oil on canvas, 20 x 30 in., $33,000.
Lot 21. view this lot Arthur Fitzwilliam Tate (American, 1819-1905) oil on board, 10 x 14 in., $12,000.
Lot 203. view this lot Tiffany Leaded Lamp, 23 in. tall, $24,000.
Lot 292. view this lot Venetian Jewel Casket, late 18th c., $8,250.
---
Sold May 2001
Lot 74. view this lot Aaron Willard Roxbury Cased Tall Clock, c. 1800, $19,000.
Lot 75. view this lot Boston Chippendale Mahogany Block Front Secretary, c. 1770, $22,000.
Lot 76. view this lot Pair of Boston Queen Anne Walnut Side Chairs, c. 1740-1760, $57,000.
Lot 77. view this lot David Williams, Newport, RI, Mahogany Shelf Clock, dated 1803, $30,000.
Lot 131. view this lot Massachusetts Shoemaker's Sign, "D. Thurber", $20,000.
Lot 134. view this lot Connecticut Valley Federal Inlaid Cherry Secretary, 18th cen., $26,000.
Lot 148. view this lot Massachusetts North Shore Hepplewhite Inlaid Mahogany Card Table, $31,000.
Lot 229. view this lot Boston Hepplewhite Inlaid Mahogany Wingchair, c. 1795-1810, $57,500.

Sold November 2001
Lot 66. view this lot 19th cen. Carved, Gilded and Painted American Eagle, 36 in., $24,000.
Lot 76. view this lot Rare William & Mary Maple Desk, c. 1710-1730 prov. Mussey family, Lexington, MA, $40,000.
Lot 81. view this lot New England Cherry Chippendale Ox-Bow Chest, prov. Mussey family, Lexington, MA, $37,000.
Lot 89. view this lot The Treat Family Whalebone Inlaid Sailor's Ditty Box, $11,000.
---
Sold November 11, 2000
Lot 1. view this lot William Bradford (American, 1823-1892), oil on board, 6 x 20.5 in., $23,000.
Lot 250. view this lot Pair of English Regency Armchairs, $26,000.
Lot 260. view this lot Small-sized Georgian Mahogany Cabinet, 44 in. w, $29,000.
Lot 301. view this lot George III Chippendale Carved Giltwood Mantel Mirror, $13,000.
---

Sold in May 1998
Rare Diminutive Boston Queen Anne Card Table
San Domingan Mahogany, 25.5 in. wide
$280,000. (not inc. 15% buyer's premium-no photo)


Sold in November 1995
Boston/Salem Queen Anne Wingchair with acanthus Carved Knees
$131,000. (not inc. 10% buyer's premium-no photo available)